At Proguard Workwear we pride ourselves in offering a large range of top quality garments that can be customised to suit your needs. The customisation of items is becoming increasingly popular as an effective way to advertise your brand and diversify your identity. Proguard Workwear aim to make this process as quick and simple as possible, all you have to do is click on the item you want and below will be listed the customisation options available for that item.
Please note: it is important to consider factors such as the material of your garments, which will influence the type of customisation you may be able to use and logo placements depend on the specific item that you choose, therefore all locations may not be available. We have made a brief guide on each type of customisation below to help you decide the best method of customisation for your garments.
Customisation techniques available include:
Embroidery
At Proguard Workwear we make use of the latest Embroidery machines to produce your personalised embroidered clothing and workwear. These machines are able to embroider a logo at a rate of 1000 stitches per minute and can run up to a number of items of clothing at any one time, ensuring that an accurate and clean stitch is produced. We work on a wide range of products from jacket, towels, shirts to baseball caps, we aim to give you the most diversity that we can with our machinery available.
Your design is uploaded onto our software and digitalised to integrate the machines specifications.  Our skilled team will then clamp the garment into place and ensure the correct thread colours are chosen as per your requirements. Threads are made from a special yarn which resist colour fading.
Embroidery is recommended for heavy materials where many of the other customisation techniques may not be suitable. The embroidery technique is very durable and is the technique of choice for items that will be high use items of a long lifespan that require regular washing i.e. uniforms, headwear, polo shirts, fleeces, jackets, towels. The Rayon thread can withstand 60c wash cycles, so is ideal for overalls used in a garage environment or a waterproof jacket that may be used in logistics companies where a good abrasion resistance is required.  Furthermore, embroidery is the most popular method to apply a company's logo or design as the finish has a premium feel.
One off set up – An initial origination set up is required for embroidery; this is then kept on file in definitely, making repeat orders quick and cost effective. Once your logo has been set up on our system we can use this on multiple garments from polo shirts in the summer to fleeces or jackets in the winter, without compromising your design or brand guidelines.
Printing 
Printing is an excellent option when you  require your customisation to be durable and create a unique but also complex designs using a extensive range of vivid colours. The end finish is exceptional giving you the highest quality end product using printing machines of the highest quality. There a number of different printing techniques available to us and it requires careful consideration to choose the appropriate technique depending on the garments in question. Three popular methods are explained below: screen print, DTG & Transfer.
Screen Printing
Screen printing is a printing technique used to create custom designs, vibrant colours, patterns and logos onto fabrics. With this technique you are guaranteed a high quality finish with excellent durability and a long lasting design.
Screen printing involves the creation of screens based on the number of colours in the design, this allows the colours to be applied separately. Once these are produced ink is pressed through a through a mesh screen with the other areas blocked off by a stencil. After the ink is applied the item is put under a heat lamp to cure the colour onto the fabric before adding the next screen/colour. Once all screens have been applied the garment is placed through a special dryer to ensure longevity of the ink.
Fabrics for Screen Printing
When considering screen printing fabrics are very important to consider. Natural fabrics absorb liquids better, leaving a vibrant design behind compared to synthetic fabrics. Synthetic fabrics tend to be made out of plastic and oil, which have a tendency to repel water. The print will still transpose but have a tendency to look less superior compared to other more compatible fabrics. The best fabric choice for screen printing is cotton. Secondly, would be a blend of cotton with something like polyester (50/50, 70/30, 80/20). The higher the proportion of cotton the better the finish of the print.
Please note: Even if you use 100% cotton, the end result may vary depending on the consistency of the fabric. Thicker materials are heavier and tend to absorb more ink, resulting in rich colours that will outlast those of thinner materials. Finer and shinier fabrics absorb less ink, which results in a dull print. If you need any more advice on this do not hesitate to contact the Proguard Workwear Team who will be happy to help with any queries.
This technique is the recommended method of printing when producing a large quantity of garments with the same design. There is a one off cost of £25.00 with each first order for a screen print design based on the labour and time taken to produce the screens for your image. For repeat orders of this screen print design you will not have to pay this extra charge. We require a minimum order for this service of a quantity of 25. Also dark colour garments will need an additional flash screen, which incurs an extra £25 charge per image/design. This option is more cost effective for large quantity orders.
 In order for us to process your order you will need to provide us with the highest resolution image of your design. The higher quality the image the more precisely our machines can transpose the quality of the artwork onto your garment. This must be an ESP file, Ai file, Vector PDF or JPEG (minimum 300 dpi).
If this option doesn't seem suitable for you feel free to call our expert team who can talk through the best available options for you.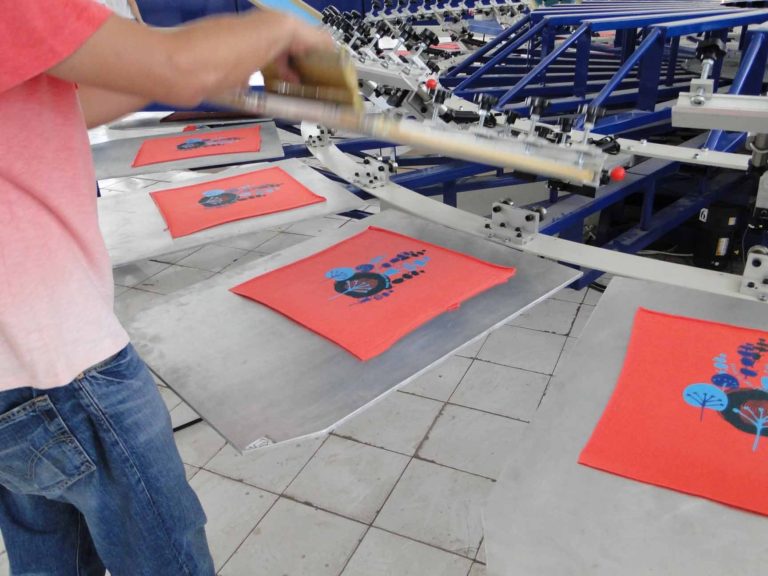 Direct to Garment (DTG) Printing
Direct to Garment Printing is the process of using specialized water-based ink directly into the fibres of the material. It involves the garment having to be pre-treated with a solution, which allows the colour to deeper penetrate and pigment the material, and also promotes better drying and curing of the product. Since the water based ink is penetrates into the fabric it allows stretching of the fabric without cracking and as the garment is worn, preserving the soft feel of the fabric.
DTG allows production of super soft vibrant prints, at an affordable price and great quality. There is also no limit to the amount of colours you can use. Again as with other printing techniques, the quality of print will reflect better on thicker, more permeable quality materials. There is no minimum order for this printing customisation technique.
Heat Transfer
Transfer printing refers to your custom design/logo being printed on to a specialised vinyl, the ink is then later heat sealed onto the fabric using heat press machine. There is very little waste produced with this method making it a very eco-friendly customisation type.
Heat transfer may be a good option for you if you are considering:
Smaller quantity orders
Printing logos where bright bold colour is required on a dark background
Metallic, flock, glitter or glossy finishes
Intricate designs (including small text or fine details)
Customised clothing e.g. adding individual names to items such as kits or hoodies
Items required as one-off samples, events or promotional giveaways
Printing on umbrellas, bags, aprons etc.
However it is important to be weary that with this method the printing results may not be as robust as long as other customisation methods including DTG or screen printing. Also heat sensitive fabrics including fleece and wool are not suitable for this customisation process. Heat transfer tends to be the popular customisation choice for Hi Vis products, commonly used on polyester, polyester blend fabrics, nylon and acrylic fabrics. However are still compatible with cotton and cotton blends.
Dye Sublimation
Dye sublimation is actually a form of heat transfer! However, each decoration method uses different film and equipment. In dye-sub graphics are digitally printed and then heated to transfer the dye onto your material on a molecular level. Because the design is bonded on a molecular level it will never crack or peel. However, Dye-sublimation also comes with some limitations as well. Dye-sub can only be done on white or light coloured fabrics.
Recommended for:
Polyester garments such as high vis vests, flags and sports clothing
Dye sublimation is a specialist process which can be used to print polyester garments alone.
It works in a similar way to heat transfer but creates a more permanent image on the fabric.
To achieve this the design is first printed onto a special paper using unique dye sublimation ink and the paper is trimmed and placed onto the garment within a heat press. The heat from the press causes the pores of the fabric to open, allowing the ink to run inside. Once the process has completed and the garment cools down, the ink is effectively trapped within the fabric.
As such the process could be closely compared to that of getting a tattoo, in that the image is placed within the 'pores' of the fabric rather than sitting on the surface of the garment.
Pros
Offers good print longevity after multiple washes with no cracking or loss of definition
No extra cost for multiple colours within a design
Has a low set up cost so is ideal for short production runs
Images can be complex and near photographic quality

Cons
Can only be used for polyester clothing
Not suitable for larger volume runs, and for order made up of 25 pieces or more screen printing may be more cost effective.
Whilst a close match can be used, this process cannot be used to print exact branding colours; if this is required screen printing would be a more effective solution.

We aim to supply your product from start to finish with all processes all under one roof, using the best technology available. Whether it is embroidery, print or heat transfer, our customisation processes covers all aspects where possible, leave it to us to give you an exceptional service.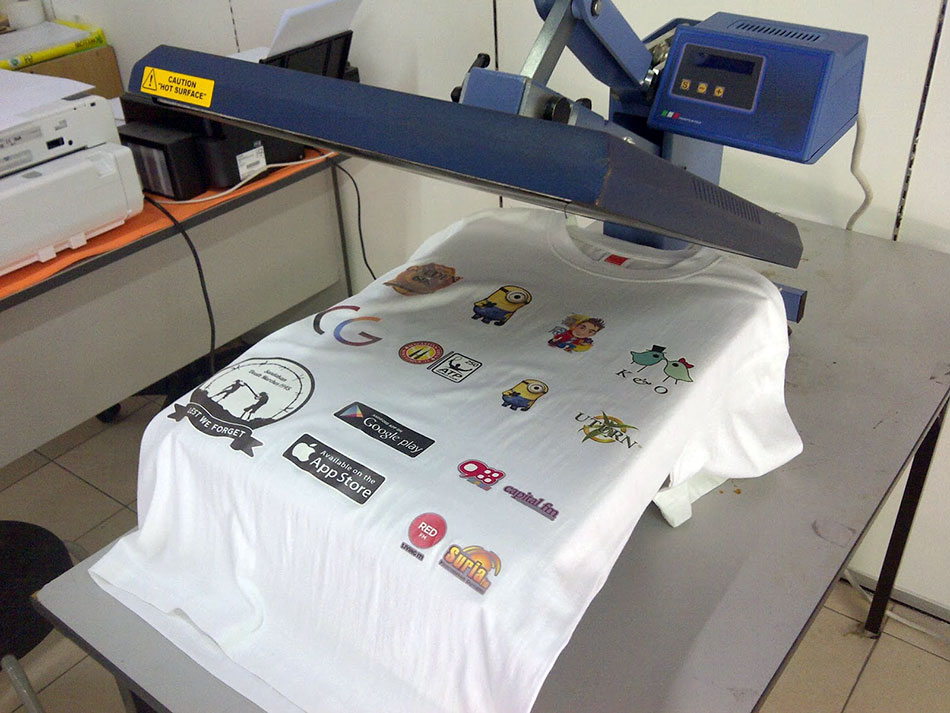 Call us 8am-6pm Monday to Friday and 8am-2pm Saturdays and you can order via our website 24/7 365 days a year.
We are always looking for new talent to join our growing team.
Please contact us for further information or send your CV here: info@proguardworkwear.com